NIO
An AI assistant that helps users to manage personal & group knowledge by offering several ways of organizing information in versatile formats

---
Duration
7 weeks, Sep – October 2019
Team
Nandini Nair
Michelle Cedeño
Diana Chun
Sanika Sahasrabuddhe
My Role
Research & Strategy Lead
UI/UX Design
Persona Building
Methods
Interview
Survey
Concept Speed-dating
Usability Testing
---
Notion

FUTURE OF WORK

The all-in-one workspace for your notes, tasks, wikis, and databases.

Today the future of work struggles to achieve alignment thorughout a team. How might we envision a virtual assistant that enables individuals and teams to be productive? and how might we leverage AI to enable more effective teams in the future of work?

---
The Outcome
ECOSYSTEM

Nio, a workspace assistant leverages AI's natural language processing capability to help workers prepare, practice, and evaluate their communication skills based on their real conversations within meetings

In the context of group collaboration, Nio takes on the role of a smart facilitator who is able to identify actionable needs and enables teams to organize towards meeting your goals.

I worked primarily on the UX and research portions of the project..





Desk (office or remote): Laptop Control
Nio's laptop control enables hands-free access to personalized learning materials and instant feedback in the workspace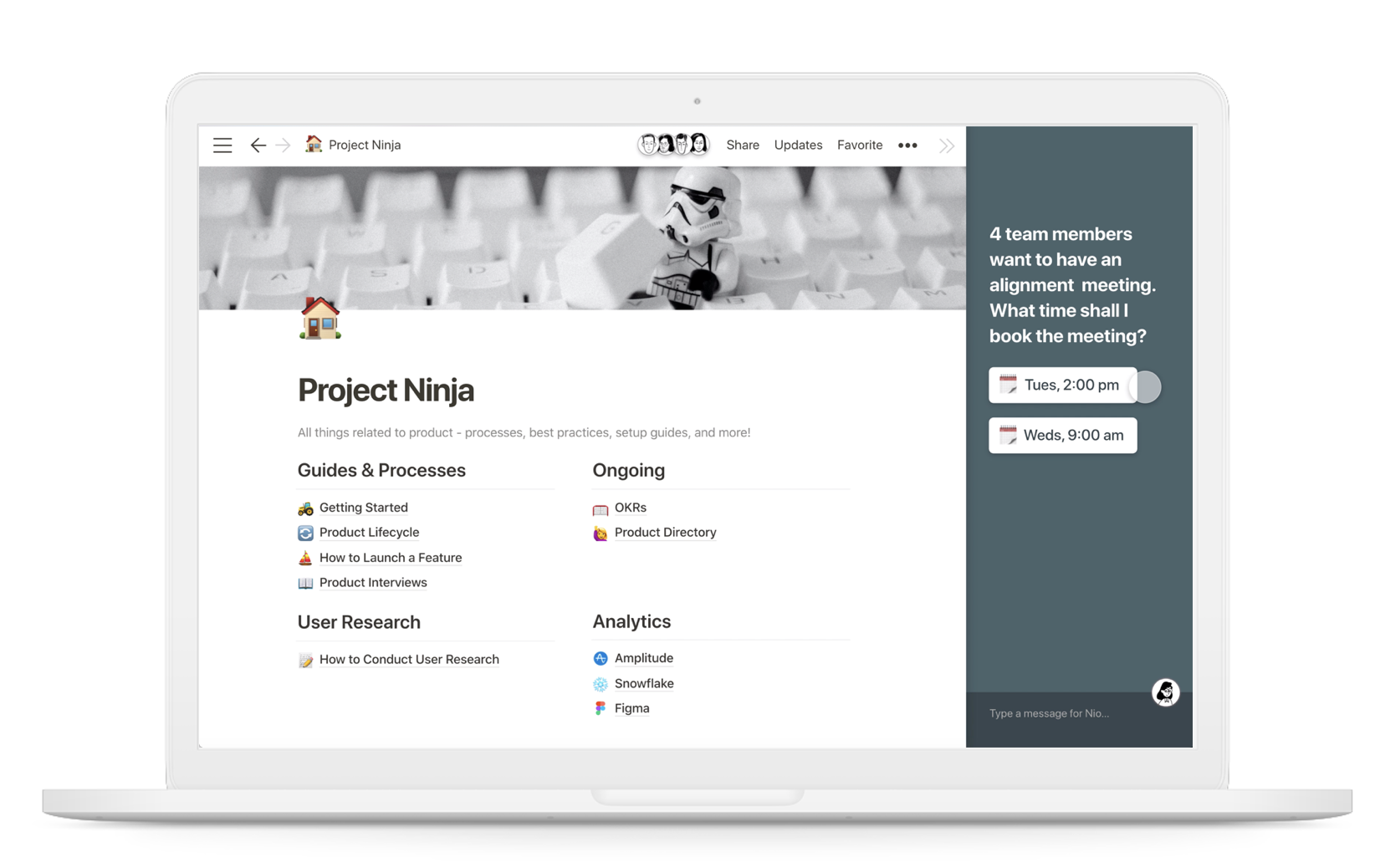 Meeting (office): Smart TV
The Smart TV collects the workers's conversation upon the workers's approval and provides access to NIO's virtual assistant.

Phone (office or remote): Phone Control
The phone is the principle remote tool for any at-home access.

At home, workers practices with the virtual avatar based on real (anonymized) conversations he/she had during the day. The student may also see his/her learning progress and review learning modules as needed.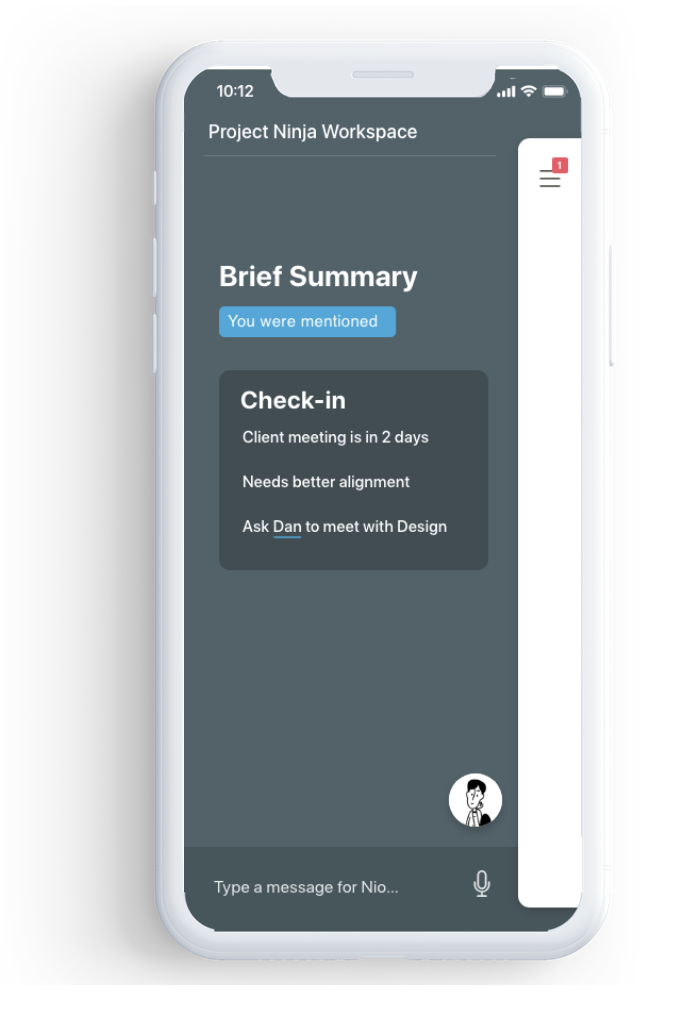 ---
Design Process


01 From Scoping to Hypothesis


Design a system that is a symbiosis of learning and AI

We employed different research techniques to identify and narrow down opportunity areas.

Once we defined the domain – organization in the work place we conducted a series of exploratory research – including interviews, surveys, literature reviews, and market research in the future of work field . and the branding of Notion

Notion is a productivity app that allows users to manage personal and group knowledge by offering several ways of organizing information in versatile formats. As a new startup company based in San Francisco, founded in 2016, Notion aims to be an all-in-one workspace for note-taking, project management and task management. A huge advocate for computing history and thinking outside the box, company founder Ivan Zhao's vision for Notion is to "create tools that empower people to use computers like a new medium." We believe Nio, our intelligent agent will make this easier, faster and hassle-free. We wanted to convey this message functionally as well as visually.




---
02 Focused Exploratory/ Early Generative Stage



Designing The Form



This stage involved four research activities to identify challenges for project managers in the workforce. With the learning, we established personas to better capture their pain points.



Using physical prototyping tools helped us visualize the movement and ease of the three blocks we landed on. After reading into the Notion brand, the three blocks from binary history became a motif. We cut out three form core pieces to look at the movement.


KEY PRINCIPLES FOR DESIGN AND MOTION

Versatility, Simplicity and Agility.

From an initial set of a colorful, hand-drawn style of exploration, visual identity and animation style, we narrowed and refined to be simple yet playful. We explored with props to figure out potential animations of the cubes.





THE END MOTION RESULT




Based on the previous research, we created two work personas and two corresponding AI personas. The manager personas capture the unique challenges and priorities for weak-communication-skill managers who haveconnecting to group alignement. The AI personas reflected the personas' needs in the personality design and teaching styles.



---
03 Develop
Nio across different platform


As we established the visual language of Nio, we also start thinking about how Nio would move seamlessly between the platform to assist the work collaboration. We looked at multiple different platforms such as tangible interactive cubes for meeting rooms and how Nio's role would change depending on the situation (group vs. individual assistant). With the cube, we explored possibilities of the tangible interface.


After evaluating the pro and cons list of a Nio Cube, we could not justify the reason for another device user had to purchase and thus decided to keep the meeting platform as a simple screen with Facebook Portal technology, where a small mounting of Portal TV device could make any existing screen a smart screen.

Who owns Nio and who owns the data Nio collects?

When designing around the cube, we kept coming back to the question of ownership because Nio suddenly got a body (cube) that could manifest Nio. In terms of autonomy and privacy in the age of Artificial Intelligence, I am not sure I have answers to the questions that came up throughout the design process. I delved deeper into the questions of Nio's ethical implications in my seminar paper.

Inclusion of Gig Economy

According to this Deloitte Article, despite the emergence of many workplace management apps in recent years, very few of them have considered the new trend of gig workers or remote workers. We wondered if Nio could be designed around this not-so-edge case where a remote worker that attends a meeting virtually, virtually looks for documents, catches up on other's conversations while forming communities and alignments with his coworkers.



04 Persona


After setting up a series of functions that Nio could use to aid users to improve workplace and teamwork, we refined these functions by finding a user persona, mapping the design on a greater ecosystem and writing a user scenario. We produced a short video to demonstrate our design.

After setting up a series of functions that Nio could use to aid users to improve workplace and teamwork, we refined these functions by finding a user persona, mapping the design on a greater ecosystem and writing a user scenario. We produced a short video to demonstrate our design.






05 Reflection & Next Steps

User Research
We have learned to make the most of existing resources by trying our best to harness local and remote participants and gave compensation for their time out-of-pocket. The resulting personas was very helpful to keep us in check and avoid "designer biases".

AI
We spent a lot of time researching AI's capabilities and limitations. In the medical field, there are a lot of contextual learning challenges that can be difficult to address in AI. Nonetheless, we wanted to push the boundary and leverage the existing communication framework in academia to help students follow best practices.

Design
During our design iterations, we had a hard time getting feedback on usability because our content weren't accurate. While we eventually overcame this with generous help from professionals, this experience highlighted the weakness of a designer-only team.

For me, I was humbled by our research findings that continued to prove wrong our assumptions, highlighting the importance of a research-based, iterative design process.

Next Steps
The critical next step would be circulating the idea with a larger group of stakeholders, including workers. We didn't reach out to patients for ethical concerns in the design process. However, their feedback would be key to future concept validation and iteration.