yomo

Yomo is an early-stage experience design concept revolving around menopause. By strengthening an understanding of physiological, bio-behavioral and societal aspects of women's health and aging, yomo empowers a network of women and the people around them.

---
Duration
7 weeks, Jan – May 2020
Team
Sanika
Michelle Cedeño
Anupurita Ranade
Stefania Latavvia
Yiwei Huang
My Role
Research & Strategy Lead
UI/UX Design
Persona Building
Methods
Interview
Survey
Concept Speed-dating
Usability Testing
---
---
Project Background

Menopause, often called "Change of Life", is a crucial life transition for all women. Yomo aims to help women dealing with their bodily changes, bonding with a community of care, and building a positive outlook.

Everybody is involved.

Currently in the US,15.4% of the total female population experience extremely severe menopausal symptoms. More than one-third of the female population is in the age of menopause and are experiencing changes in their body associated with aging. She could be your mother, your partner, or your co-worker. With an aging society, changes associated with aging and increased health risks affect everyone.



HOW MIGHT WE DESIGN INTERGENERATIONAL INTERACTIONS TO INFORM AND EMPOWER WOMEN IN VARIOUS LIFE STAGES ABOUT BIO-BEHAVIORAL AND SOCIETAL ASPECTS OF MENOPAUSE?

Project Outcome
YOMO

YOMO is a health literacy service that accompanies women through their health by focussing on collective care around critical transitions for an improved life.



Through YOMO we see health literacy as a process of understanding yourself not only through clinical, tested treatment options but through a community of care that becomes a companion to navigate and focus on the crucial transitions that set the stage for an improved life, body, mind, and community.

It has 4 main features that comply with this objective. The first one is an online community for women to support each other at any menopausal stage, treatment and care library, chat with experts through telehealth, and symptoms tracking.



01
YOMO Community

YOMO introduces its users to a community of women who share and discuss topics related to reproductive health.

YOMO enables users to invite friends and other members from their support circles through an invitation to download the app and explore the YOMO community.

This feature allows users to share stories of their reproductive health experiences (menstruation, pregnancy, menopause, etc) and follow others who have experienced the same symptoms by categorizing themes.

People can like the stories written in the community, share them, and find the treatments mentioned in the post. The identification of treatments is selected by the user who's posting the story and appears from different categories related to menopausal symptoms.

"When I opened up to my friends, I realized we don't talk about it. In my generation, my mom didn't talk about it. Sharing experiences is important." - Anonymous



02
Treatment and Care Library

The treatment and care library not only connects women to experts but also helps them be well informed about their treatment options and lifestyle choices that impact their well being.

This feature additionally shares information on medical doctors and health professionals that are available for consultation.

The symptoms are also categorized and are found within the treatment library in the lower part for easy access.

"Doctor's suggested treatments like hormones didn't work and made my symptoms worse, but it was until a nurse suggested a Nuva ring that worked for her, that my problems got solved" - Anonymous



03
Telehealth and YOMO Journey


Using the telehealth feature, women can consult experts of their choice to seek medical advice.

This characteristic allows for users to explain in greater detail their symptoms and experiences without physical contact. During these times when a pandemic is limiting human physical touch, telehealth is the best option for medical consultation.

This feature also allows for the YOMO journey to be sent to the doctor selected. The YOMO journey is a summary of your tracked symptoms at a specific timeframe. The information helps the physician to be aware of your specific biodata and diagnose accordingly.

" I keep a tally of how many hot flashes I get. It helps to show to my doctor or even know what treatment I should look for " - Anonymous



YOMO System

Knowing that research on menopause transition in women is currently a niche area, YOMO's business model not only serves on the user's end but also is designed for strategic partnerships of health data to understand the holistic aspects of bio-behavioral information.

Menopause is a variable experience that researchers haven't been able to standardize across different cultures and geographies. We propose designing specific ways of crowdsourcing health information that can support newer qualitative methods of research to address the issue. This through specific research institutions like SWAN (Study of Women's Health Across the Nation), Bill & Melinda Gates, and the NSF (National Science Foundation).

Data partnerships with tech companies that currently have a strong digital infrastructure for health tracking are important partners in maintaining records of symptoms and daily activity. Working directly with these companies will help keep on track of data privacy and feed into research institutions and hospitals.

Finally, we want to partner with healthcare experts, like doctors and frontline workers to offer not only the tools for patient screening but also statistics for better consultation. In compliance Health Insurance Portability and Accountability Act.




YOMO OFFERS THE FRAMEWORK AND VISION FOR DESIGNING EXPERIENCES THAT ADDRESS TABOO TOPICS IN HEALTH THAT AFFECT AN INDIVIDUAL AND IMPACT THEIR IMMEDIATE COMMUNITY.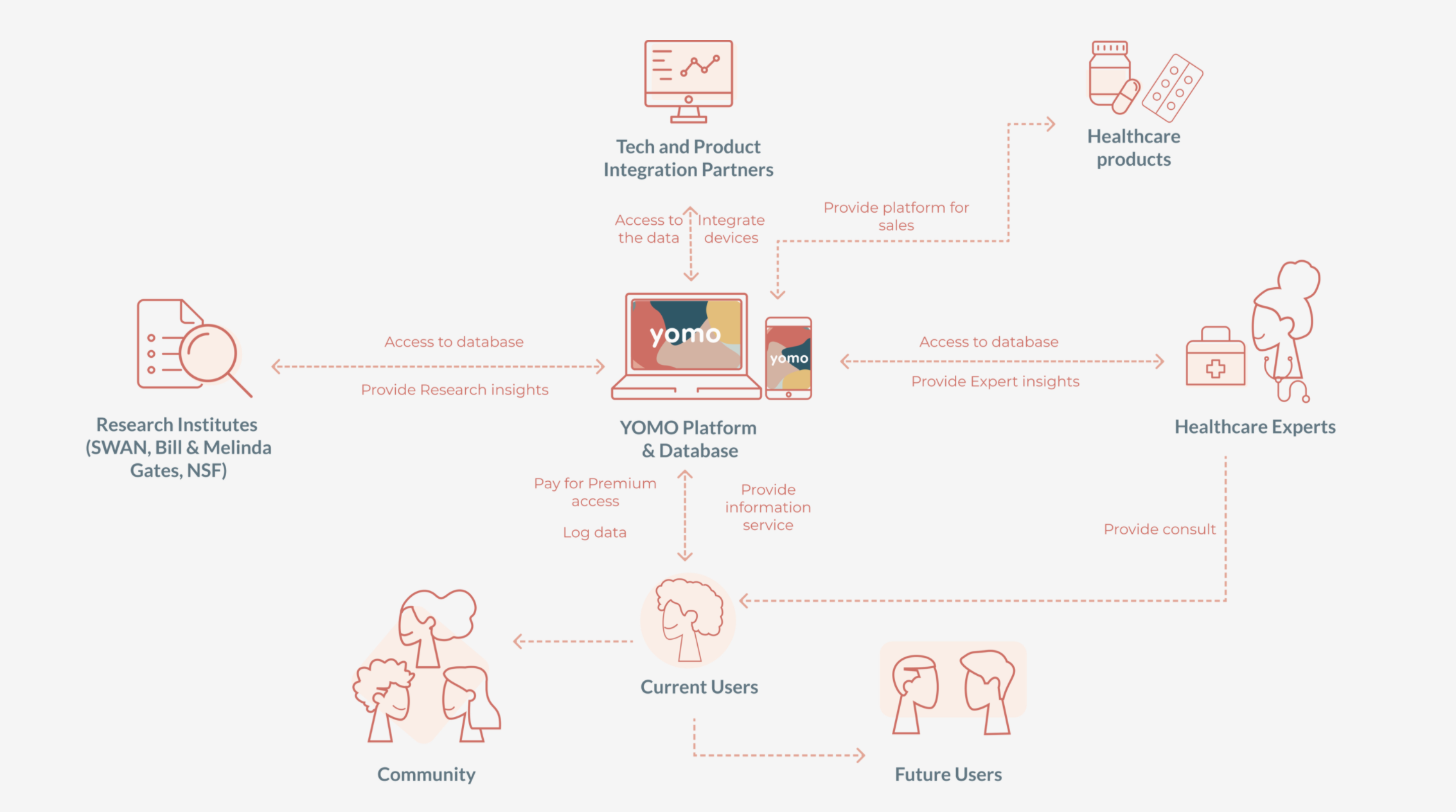 Our vision for designing to improve life is to create an experience framework to navigate crucial transitions where an individual is benefited with health literacy and a support unit of care - a community that is not enforced on them, but one they can choose, from across the world.

---
Design Process
---
01
Understanding the problem

When we got the task to design for a United Nations Sustainable goal, we decided to focus on the 3rd one - Good Health and Well-being. We believe that a holistic conversation about aging in women contributes to healthy lives and promotes well-being to all ages.

Furthermore, we wanted to concentrate on menopause since it is a women's health topic that is not fully covered or researched as much as menstruation and pregnancy.


MENOPAUSE EMBODIES CONTINUITY.
IT MARKS A NEW BEGINNING. IT IS A TRANSITION, NOT A TERMINATION.



After a thorough exploratory phase, we did five expert interviews and six stakeholder interviews, along with a literature review, web eavesdropping, and a graffiti wall exercise. Through all of this research, we end up with helpful insights to guide our generative phase.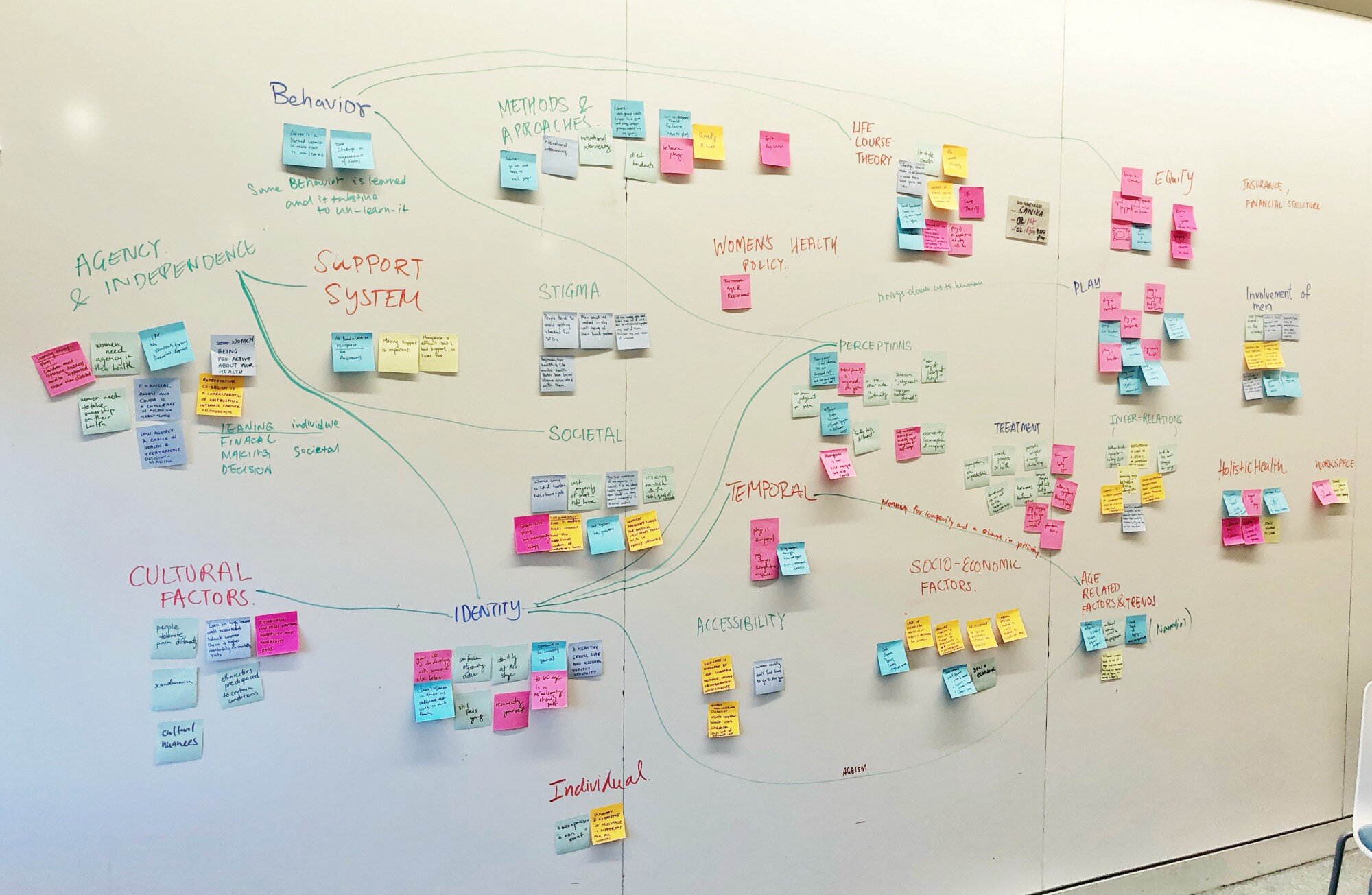 RESEARCH INSIGHTS
---
HOW MIGHT WE EMPOWER WOMEN THROUGH THEIR MENOPAUSAL JOURNEY?
---
02
Concept Development

With the previous question in mind, we thought about the menopausal journey by itself and how it is not the end of a stage but the continuation of oneself exploration.

For the intergenerational communication principles, we did an exploration framework that we based our concept on.

This framework shows women who are preparing for the future, living the menopausal transition, and finally, passed this experience. All of this, by looking at different stages of their personal lives, like at home, work, and social circles.

Through our design, we want to give these women we are focusing on, the ability to have a better outlook for their futures. By taking care of themselves now to prevent future problems. For women who are going through menopause, we encourage self-acceptance. Considering that it is a shocking transition that requires physical and emotional support.

For the women who have been through the menopausal stage, we support resilience through life transitions. And a way for them to assist others to face a woman's natural stage.

Finally, as we know that we are NOT alone during this experience, we want to involve others and foster communication through the different supporting circles of a woman.



WORKSHOP

Based on this, we had a workshop with stakeholders to have a co-create session to generate ideas and discuss opportunities.

In the workshop we facilitated the conversation around understanding and empathizing with their lived experience of menopause through sharing:

Hopes and Fears
Stories and Experiences

And then moving towards

Generating concepts. - to give you an example - one of the concepts participants came up with was a magic pill that knows what vitamins and medicines you need based on your symptoms.

This event helped us narrow down 3 main aspects to highlight in our design.

COMMUNITY - CARE - COMMUNICATION

And to develop archetypes for our users highlighting their motivation, conversation engagement, openness to treatments, lifestyle, and awareness.

Using these 3 principles and the archetypes created, we developed a few ideas for our concept which end up being merged into what we call YOMO.


03
Design Decisions

From the generated concepts we had to narrow down the features we thought important for our users. From a concept speed dating exercise with our stakeholders, we found out that the digital library had the most popularity.

The rounds of concept speed dating reflected important opportunities for design, for example, that a central library of information on menopausal health did not exist out there. And then there was a gap between arriving at the right pathway of treatment based on understanding the changes your body was going through. Most women found comfort in reaching out to other women to share their personal lived experiences.

ONE OF OUR MOST IMPORTANT INSIGHTS WAS THAT A WOMEN'S COMMUNITY IS MORE MEANINGFUL BECAUSE THEY EMPATHIZE BETTER THAN THE USER'S FAMILY.

So we added the community and the digital library as core elements for our concept. Finally, the tracking makes it easier for the user to share biodata with the physician. But still not abuse with AI since most of our users are reluctant to fully rely on technology for their health.

For our visual style, we went for a muted color palette that reflected a friendly tone for the app. Not a medical one, but a simple and yet approachable community feeling with the colors, and the typeface.

04
Prototyping

Having converged on the decision to expand the care and treatment library, we started working on a low fidelity prototype that highlighted certain key offerings we heard in our speed dating exercise. While prototyping, we also included certain aspects of the other concepts that participants found promising.




Low Fidelity Prototype for User Testing

We did user testing with one of our stakeholders with the low fidelity prototype to allow for co-creation instead of validation for our design. This activity provided us with insights to polish our design and features that we didn't consider before like adding wearable technology for the tracking feature and remove the visual analogies with the flowers for symptoms.

Many of our participants said they believed in life taking its natural course. We envision this product service that celebrates the lived experience and fosters collective care rather than saying that medical treatment is the only option and recognizing that the menopausal transition seeks a holistic approach - behavioral and much as biological.




Transition of Prototypes for the Symptom Tracking Interface - from Lo-fi to Hi-fi.

05
What did I learn?
MENOPAUSE IS A VARIABLE EXPERIENCE THAT RESEARCHERS HAVEN'T BEEN ABLE TO STANDARDIZE ACROSS DIFFERENT CULTURES AND GEOGRAPHIES.

This project helped me understand the importance of customization in interfaces, particularly the ones that take care of health factors. It is not easy to design for something that you haven't experienced yet or something that is not easy to understand. Menopause is a stage in every women's life and is still very different for each of us, so we had to live vicariously these experiences through our moms, grandmothers, and older friends. This was something very interesting and helpful since this project wasn't only for the INDEX contest but for our awareness and comprehension of these transitions that will affect us and are affecting others.

Design-wise, I realized I enjoy working with phone and tablet interfaces instead of webpages, and with this, I also got a lot of experience with Sketch and Figma to prototype for the user testing exercises. I do enjoy giving dynamism and movement to the interfaces I design, instead of static screens, but that's just me.







---